Learn how to create and manage your custom funnels.
Elevar's Funnel Builder helps you visualize your users' behavior in a way where you can combine any type of event and pageview together. This is a closed funnel which means the users have to complete each step in the sequence to one another.
Learn How the Funnel Builder Works
Users from a specific Facebook campaign => signed up for an email => viewed product => added to cart => started checkout => completed purchase
Sessions where onsite search is used => product viewed => added to cart => entered payment details => completed purchase
Sessions where users land on home page => click a promo banner => add to cart => checkout
Users from AdWords => completed purchase => visits site again => adds to cart => completes 2nd purchase
As you can see there are endless types of funnels you can create. (See more examples of funnels here on our blog!)
Configuration Options
Metric
This utilizes Google Analytics definition of users or sessions. By default we utilize sessions.
Subsequent steps should follow
If your funnel has more than one step, the order in which you define the steps is significant. We recommend keeping Precedes. Precedes means that users can take intermediate steps in between funnel steps that you have not specifically created. Those steps don't have to be part of the funnel but the user still remains included.
Immediately precedes means users are part of the funnel only if they enter the subsequent step directly after a preceding step. We recommend keeping this as precedes.
The biggest thing here is that immediately precedes means the user literally can't do anything else between the steps. No clicking on any behavior events, viewing other pages, etc.
View by Dimension
This allows you to select a dimension to group your funnel by in a row report below the main funnel visual.

Step Creation
Here is where you create each step (the vertical bar) and define the filters that make this step up.
The step name is what appears above each vertical bar in the graph.
The filters are where you define the rules that make up that specific step in the overall funnel sequence.
Keep in mind this is a close funnel so anyone that you want to filter by in step 3 has to have completed step 1 and step 2 first.
If you end up with a funnel that has 0 sessions or users in one of your steps it might mean that your filter needs to be adjusted.
Filter Tips
We've included some common filters below that you can use for your filters with the most common being "Shopping Stage" which would look like this for and add to cart:
You can also make a funnel using your custom event tracking (you ARE using our GTM Extension right?!) Here's how that would look: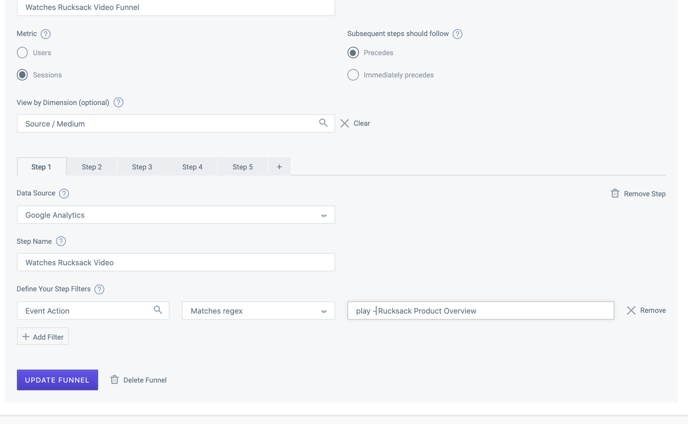 NO_SHOPPING_ACTIVITY: Exited your store without a product detail view, add to cart, checkout, or purchase hit
PRODUCT_VIEW: Sessions with product detail views
NO_CART_ADDITION: At least one product detail action view but no add, checkout, or purchase action
ADD_TO_CART: Sessions with add to cart
ADD_TO_CART_WITHOUT_VIEW: Sessions with add to cart, entered funnel at this step without any detail action hit
ADD_TO_CART_WITH_VIEW: Sessions with add to cart, and at least 1 detail action
CART_ABANDONMENT: At least 1 add to cart action but no checkout or purchase hit sent
CHECKOUT: Sessions with checkout
CHECKOUT_WITHOUT_CART_ADDITION: Sessions with checkout that do not contain add to cart hits (think abandoned cart emails)
CHECKOUT_WITH_CART_ADDITION: Sessions with checkout and at least one add to cart action
CHECKOUT_ABANDONMENT: At least one checkout action but no purchase action
TRANSACTION: At least one purchase event sent with session
TRANSACTION_WITHOUT_CHECKOUT: Sessions with transactions; entered funnel at this step without any checkout action hit sent
TRANSACTION_WITH_CHECKOUT: Sessions with transaction; at least one checkout action and 1 purchase action sent with hit